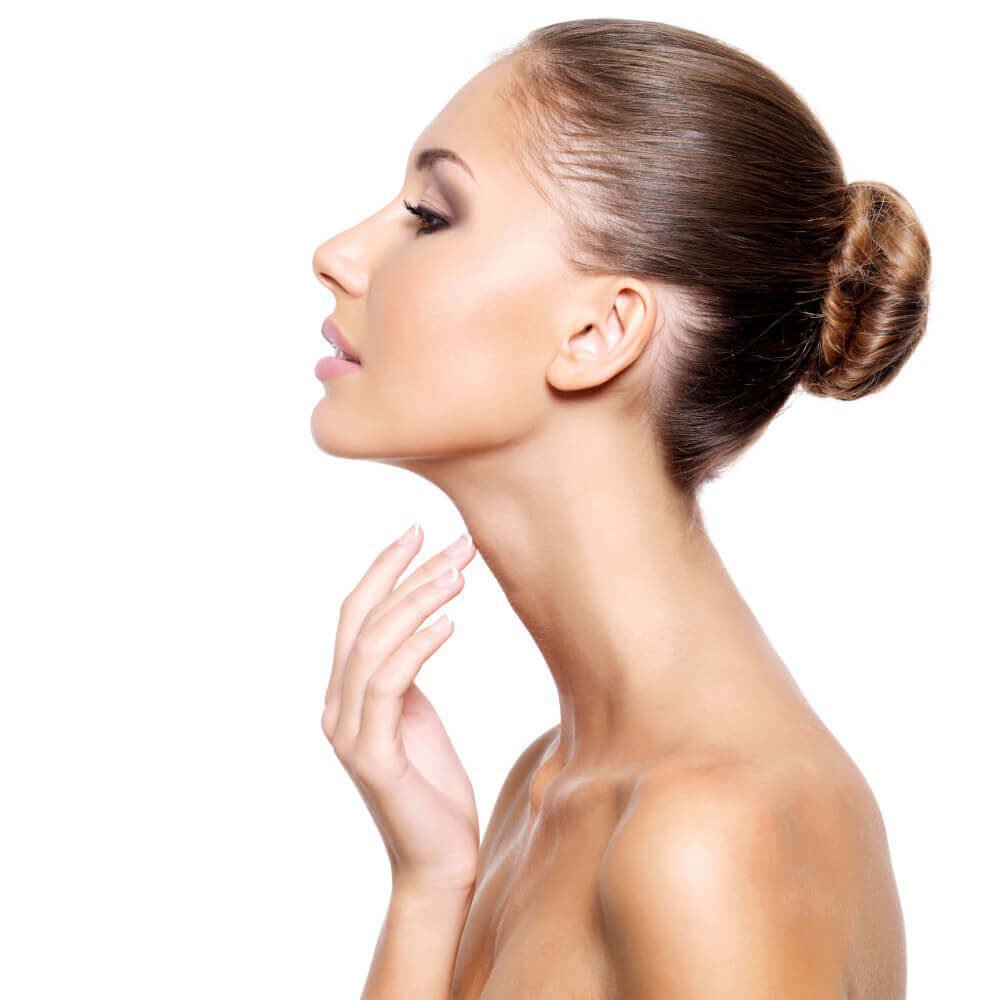 Many people would say the eyes are the first areas to show signs of aging with fine lines or the dreaded "crow's feet" that appear when smiling or laughing. Following closely behind is the neck. As a result of the natural process of aging, the skin on our neck begins to lose elasticity and underlying muscles begin to weaken. The "turkey wattle" is a common problem for women and even some men as they get older. The issue of excess, sagging skin on the neck can make individuals look older from every angle. One of the most commonly requested surgical rejuvenation procedures in southern California, a neck lift can restore youthful contours in order to rejuvenate a person's appearance and take years off their profile.
With over a decade of experience, Dr. Kevin Sadati is a highly regarded and sought-after board-certified plastic surgeon in the Orange County and Southern California area. He is focused on working one-on-one with his patients to discuss all of the cosmetic options available so they feel comfortable and confident in their decision when it comes to any transformative procedure. Renowned for his surgical skills, Dr. Sadati blends his fine arts background as a studied sculptor and painter with his surgical expertise to create natural-looking, beautiful results. Here is some helpful information on how a neck lift can restore your profile and take years off your appearance.
Why do you need a neck lift?
A neck lift, also knowns as a lower rhytidectomy, is a cosmetic procedure that can restore the lower jawline area and neck by removing excess, sagging skin. It can also incorporate the removal of excess fatty tissue under the chin area in order to further contour the neckline. Due to the natural process of aging, especially in women, the muscle band in the front and back of the neck can become lax over time. A neck lift can redefine your profile and even restore a more youthful appearance. This simple procedure gives patients amazing, dramatic results.
Why does age affect the neck area?
Often an unknown fact, the neck is made up of a band of muscles called platysma muscles. As we age, the thin layer of skin that covers those muscles begins to lose elasticity causing the skin to sag or droop. The underlying band of muscles also become less taut or tight with age. It is a very common issue with age and commonly affects women as they enter into their late 40's or early 50's.
Can only women benefit from a neck lift?
Both women and men in the Orange County area struggling with a sagging neckline or excess fatty buildup under the chin can benefit from a lower rhytidectomy. Healthy, non-smoking individuals that are concerned with how their profile has changed can consider the cosmetic enhancement of a neck lift. Even individuals who have lost a significant amount of weight can eliminate loose, sagging skin with this procedure. This procedure benefits both men and women. Dr. Sadati reports that many of the female patients are wearing necklaces again because they are no longer self-conscious about sagging skin on their necks. And men are reporting that their necks are as firm as when they were in their 30s.
The neck lift procedure
During your initial consultation, Dr. Sadati will do a thorough exam and will give you a detailed surgical plan on how your neck lift can give you the best end results. He is a firm believer in patient education and will advise you if a neck lift will meet your aesthetic goals. Unlike other surgeons who perform neck lifts, Dr. Sadati employs an innovative technique that doesn't require general anesthesia. The neck lift is performed under local anesthesia with twilight sedation to ensure the patient's safety and comfort.
Depending on the severity of loose skin, surgical incisions will be made behind the ears and under the chin if necessary, in order to access the band of muscles to be tightened. Excess fatty tissue or skin is removed and the muscles are gradually tightened to further contour the neck area. In some instances, liposuction is needed to remove excess fatty tissue in the neck area and will be determined by Dr. Sadati in order to give patients the final result they need. Patients in Orange County are left with a smooth and rejuvenated appearance.
The end result
The results from a neck lift are immediate and long-lasting. Patients will experience some discomfort and slight swelling, but the recovery is fairly straightforward. Following post-op instructions of refraining from certain neck movements, like looking upwards, is advised and will help with the healing process. In most cases, patients are able to return to daily activities and work within two weeks and can enjoy their newly contoured profile that looks slimmer and smoother.
Finding the right plastic surgeon
A key component to any cosmetic surgical procedure is finding the right, board-certified plastic surgeon. Dr. Sadati has an extensive medical background as a facial plastic surgeon and ENT (ears, nose and throat specialist), and he is an expert in the anatomy of the head and neck. His creative background allows him to create natural-looking results that maintain a balance with his patients' other facial attributes. He listens to what his patients want and gives them the results they desire for each of his cosmetic procedures.
A neck lift is a perfect fit with other procedures
A neck lift can give men and women in Orange County and the Southern California area dramatic results. A perfect stand-alone procedure that cosmetically takes years off a patient's profile, a neck lift also works well with other cosmetic surgeries. A neck lift performed in conjunction with other procedures such as an eyelift, facelift, brow lift, or even chin implant can give patients an overall rejuvenated look. Named "Best Cosmetic Surgeon in Orange County" by the Orange County Register, Dr. Sadati is the right plastic surgeon to give you the results you need.
The appearance of loose skin in the neck area or even a double chin can make individuals feel self-conscious about their appearance. No amount of diet or exercise can change the way it looks so a neck lift may be the appropriate cosmetic answer. A neck lift or lower rhytidectomy helps tightens loose skin and neck muscles so patients can have a tighter, more contoured profile. It is one of the cosmetic procedures that gives patients immediate results and instantly makes them look younger.
If you live in the Orange County or Southern California area and are concerned with how your neck looks then we invite you to schedule a Newport Beach plastic surgery consult with Dr. Kevin Sadati. His distinguished career has established him as one of the top cosmetic surgeons in Southern California. Take the first step towards getting the younger and more refreshed profile you want with a neck lift by calling Dr. Sadati today.