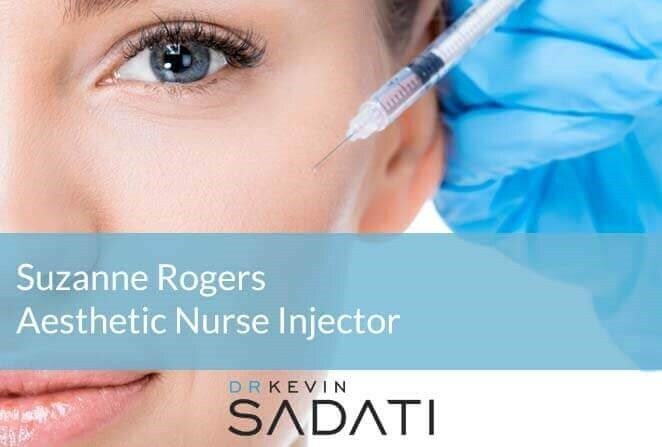 Dr. Kevin Sadati and his team at the Gallery of Cosmetic Surgery are pleased to welcome new staff member, Suzanne Rogers, RN. Suzanne, a RN injectable nurse and a Certified National Trainer, is considered one of Orange County's expert level aesthetic nurse injectors.
Suzanne Rogers began her schooling by earning a Bachelors Degree in Education from California State University Long Beach. She then went on to receive her Nursing Degree in 1996. For over 15 years, Suzanne has professionally provided injectable cosmetic procedures. The last ten years of her career have been spent focusing on plastic surgery. This gives her the ability to provide patients with the most up to date and complete non-surgical facial restorations. Trained by top Board Certified Plastic Surgeons in Southern California, Suzanne was previously a staff member at Cosmeticare and Pacific Center for Plastic Surgery in Newport Beach. In conjunction with an extensive training background, Suzanne boasts artistic skills which enhance her ability to provide patients with the results they desire. She has the ability to individualize each patient's treatment with effective and popular rejuvenation products like; Botox, Perlane, Juvederm, Restylane® and more.
Along with being trained by some of the best in the business, Suzanne has fine-tuned her skills to become a trainer herself. She now trains Board Certified Dermatologists, Plastic Surgeons and other highly qualified peers in the proper and successful use of injectable treatments with patients. Moving to the Gallery of Cosmetic Surgery now offers her a chance to help a wide range of patients who want to improve their appearance non-surgically or add finishing touches to their post-surgical results.
The Gallery of Cosmetic Surgery offers patients many treatment options, including surgical and non-surgical options, to improve their appearance. Injectable fillers, Suzanne's specialty, are a great way to help skin appear smoother, more even and more youthful. The Gallery of Cosmetic Surgery offers a range of injectable fillers for patients, including BOTOX®, Juvederm (including Juvederm XC Ultra, Juvederm XC Ultra Plus and Voluma XC), Sculptura, Restylane (including Restylane Lyft®, Restylane Silk® and Perlane®), RADIESSE®, BELOTERO BALANCE® and KYBELLA®. Injectable fillers provide patients with a non-surgical cosmetic alternative that can provide them with the results desired, but without the recovery, discomfort and time off associated with a traditional cosmetic surgery procedures. They are also a great option for those patients that are looking for facial rejuvenation but are not yet candidates for a facial plastic surgery procedure. Rather than undergoing a facelift procedure, for example, a patient may choose to use an injectable filler which can help decrease the appearance of fine lines and wrinkles, as well as help the face appear fuller and more youthful.