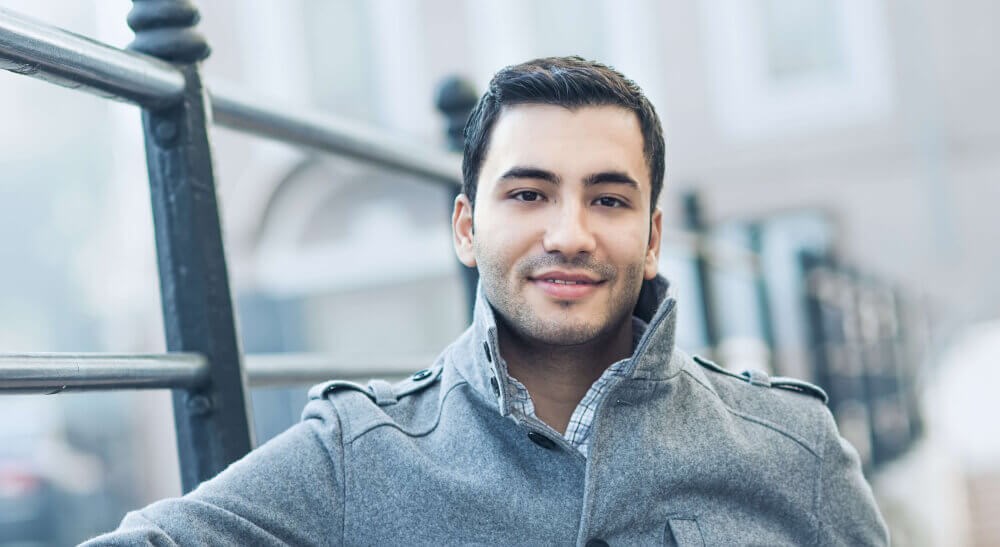 If you are someone who dislikes an aspect about their nose you may be thinking you have only two options. Either cosmetic surgery (rhinoplasty) or just learning to live with the nose you have! Well, there is a new option for individuals who want to change their nose but want to forgo surgery. Dermal fillers have once again proven to be one of the marvels in modern medicine. Fillers, such as Juvéderm or Restylane, are being put to good use by providing "liquid nose jobs" to patients who are unsure about permanently changing their nose. This nonsurgical approach is taking on a new kind of popularity now more than ever, and Dr. Kevin Sadati of the Orange County/Newport Beach area wants to get the word out.
Board-certified, Dr. Kevin Sadati is one of the leading facial plastic surgeons in the Orange County area. He is not only a highly skilled surgeon but also a studied painter and sculptor. His medical background and artistic talent enable him to sculpt and create gorgeous, natural-looking results for his patients -- even with this nonsurgical option. Let's take a look at this new non-invasive technique for nose reshaping and see if it is the right option for you.
The nose is unique
Everyone's nose is unique to them. The nose and its anatomy is the central focus to anyone's face. It is the only facial feature that has angles and dimensions to it, making up its unique 3-D shape. Patients typically wanting to change an aspect of their nose are usually seeking a more symmetrical look or balance to their nose, and in some cases want to improve how their profile looks. In certain instances, women and men can turn to the non-surgical option of a liquid rhinoplasty for a solution.
What is a liquid rhinoplasty?
Liquid rhinoplasty, or a nonsurgical nose job, is reshaping or changing an aspect of the nose by using dermal fillers and in some cases, BOTOX, to cosmetically alter a patient's nose. This new nonsurgical option is taking on a new popularity by helping more patients temporarily change an aspect of their nose without the worry of surgery. It can smooth out irregularities along the bridge of the nose, make a nose appear straighter, or even change a patient's profile by masking a bump or changing the way the tip of their nose may look. The best part, if you don't like your new look, it is reversible!
Who can benefit from a nonsurgical nose job?
Some patients can benefit from a nonsurgical nose reshaping procedure by having a more well-balanced, defined nose for their face, but this technique isn't for everyone. Liquid rhinoplasty doesn't change the bone structure or infrastructure of a patient's nose. If a patient's nose needs more constructive changes, then traditional
rhinoplasty surgery
may be their only answer. Some aspects that a liquid nose job can help with are:
A "hook" or bump on the bridge of the nose
Crooked or asymmetrical nose
A low or "flat" bridge, which is an opposite cosmetic issue to a bump or "hook"
Minor issues with nasal folds or nostrils
The perks of a liquid rhinoplasty
There are several positives when considering this less permanent option. The results are immediate and can last 6-9 months, and in some cases, up to 18 months. There is no recovery period or downtime needed. It can be done over your lunch hour. With no need for general anesthesia or invasive surgery, this procedure has a low risk factor. Dermal fillers can provide a natural-looking change to a patient's nose within minutes and if you don't like the way it looks then it can be changed.
Not permanent but a good alternative...
The best factor with a liquid nose job is that the changes can be reversed when using dermal fillers. By using dermal fillers, like Restylane or Juvéderm, a surgeon is able to dissolve their temporary effects if needed in order to change the way the nose was altered. A liquid nose job can be a good way to "test drive" any permanent changes a patient may be considering with rhinoplasty surgery. This temporary solution can have a lasting effect on patients by helping them decide that a more permanent solution of surgery may be the right answer for their future once they see the way their new nose looks.
The nonsurgical nose job has revolutionized the cosmetic industry. Before this option, there was only one way to change a patient's nose and that was with surgery. This new modern technique of utilizing dermal fillers to reshape and mold a patient's nose now allows more women and men the option of changing an aspect of their nose without the need for invasive surgery. It is also a less expensive option when compared to rhinoplasty surgery. If a patient is unsure about the changes they want to make to their nose, they can try this method first before committing to something more permanent.
Dr. Kevin Sadati is one of the most sought after facial plastic surgeons in the Orange County/Newport Beach area. Voted "Best Cosmetic Surgeon of Orange County" the last 5 years, his creative eye and expertise allows him to create amazing results for his patients. If you are interested in this exciting new technique of a liquid nose job and can't wait to get the nose you always wanted, then call or schedule your Newport Beach plastic surgery consultation with Dr. Sadati today!