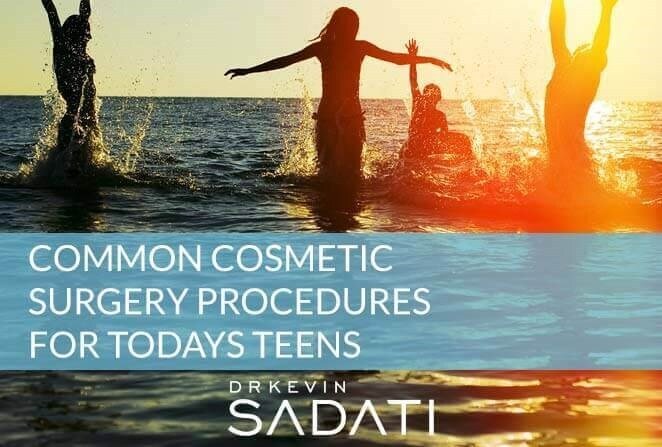 What are Common Cosmetic Surgery Procedures for Teens Today?
Many adults who are facing the aging process or have a feature of their body they do not like undergo cosmetic surgery procedures. However, plastic surgery is not limited to adults. Teenagers who have a body issue they want to improve can also undergo cosmetic surgery successfully.

Teens typically gain confidence and self-esteem through their physical look. Unfortunately, many teens are unhappy with at least one aspect of their body. With plastic surgery, this can be easily changed. Common physical characteristics many teens wish to correct include the nose, ears, breasts and even severe acne scarring. According to statistics from the American Society of Plastic Surgeons (ASPS), 63,623 cosmetic surgical procedures were performed on people age 13-19 in 2013. Another 155,941 minimally-invasive cosmetic procedures were also performed.
Some of the most common procedures teens underwent include:
Rhinoplasty - Also known as nose reshaping or nose job, this type of surgery can be performed on teens with noses that have reached adult size. This is typically around age 15 or 16 for girls and 17 for boys. According to 2013 statistics from ASPS, 30,672 rhinoplasty procedures were performed on patients who were 13-19 years old. This specific type of procedure accounted for nearly 50 percent of all cosmetic procedures performed for this age group.
Otoplasty - Also known as ear surgery, this procedure corrects protruding ears by pinning them back. It can be performed after the age of five. Statistics show that otoplasty accounts for about 10.7 percent of all cosmetic surgical procedures performed for this age group in 2013. 
Breast Augmentation and Reduction - Sometimes breasts grow too large or one breast is a different size than the other. Breast surgery can correct these issues by reducing the size of the breast or using saline-filled breast implants to adjust the size.
Acne Scar Treatment - Acne is a common issue for many teens. When severe enough it can leave scaring or hyperpigmentation. The appearance of acne scars can be improved through smoothing the skin with laser, such as fractional CO2 laser resurfacing, or microdermabrasion, a fine sanding technique. Statistics from 2013 show that 9,640 microdermabrasion procedures were performed on patients who were ages 13-19 years in 2013.  
Male Breast Reduction - Some teenage boys develop large breasts which can be surgically corrected. This type of procedure is also known as gynecomastia surgery and accounts for 26 percent of cosmetic surgical procedures performed for patients ages 13-19 years.
It is important to note that not every teenager who wants plastic surgery is suited for it. Before allowing your teen to undergo surgery, speak with Dr. Sadati. As a trusted and well-respected facial plastic surgeon in Newport Beach, Dr. Sadati can give you an honest evaluation on what would or would not work for your teen. He can also skillfully perform the surgical procedure so your teen can achieve the look they desire.