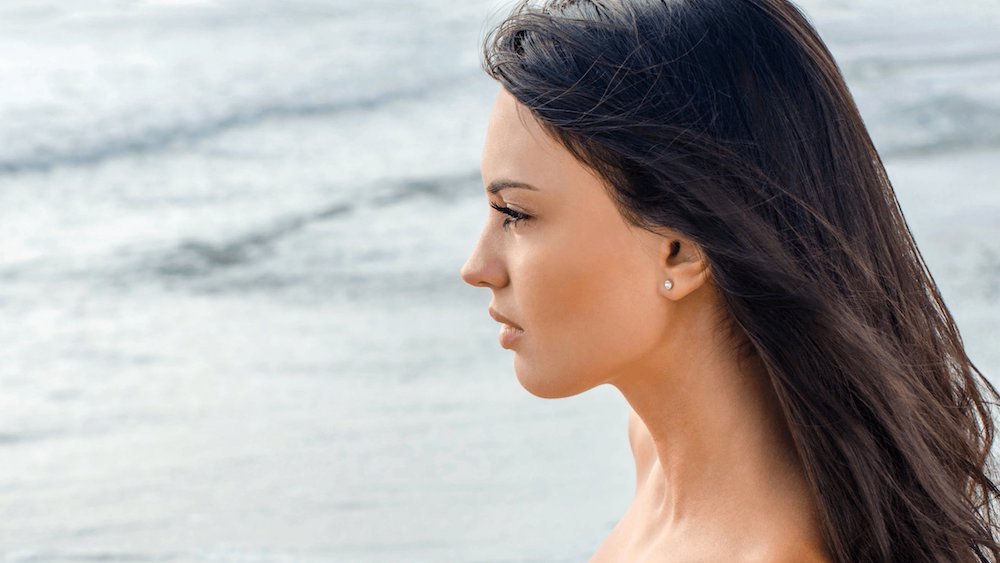 When it comes to anti-aging cosmetic surgery, there's no doubt that the facelift is among the most popular and effective procedures available today. You may be surprised to learn, though, that neck lift surgery can often provide an equally dramatic result when it comes to taking years off of your appearance.
As we age, our faces often show the first and most noticeable signs of aging, including fine lines and wrinkles, leading many people to ramp up their skin care regimen, sun protection, and cosmetic treatment routines. However, the neck is often neglected, despite the fact that it is subject to almost all of the factors that contribute to skin damage. When performed properly by an expert surgeon, neck lift surgery can reverse many of the signs of skin aging and help patients achieve a stunning, more youthful, and more refreshed look overall. Internationally recognized board-certified Newport Beach facial plastic surgeon, Dr. Kevin Sadati, has performed thousands of successful facelifts, neck lifts, and other cosmetic procedures to help men and women realize their ultimate aesthetic goals.
What is a neck lift?
A neck lift is a cutting-edge cosmetic procedure designed to lift, smooth, and tighten the skin on the neck for a more youthful and natural contour. Dr. Sadati is proud to offer Southern California neck lift surgery using local "twilight" anesthesia to cut down on surgical fees, recovery times, and the risk of potential anesthesia-related complications. During the procedure, Dr. Sadati will carefully make a series of incisions on the lower face, neck, or under the chin. The underlying muscles will be tightened, and excess loose neck skin will be removed. In many cases, neck liposuction may also be combined with neck lift surgery to further enhance the patient's results.
How long is recovery after neck lift surgery?
The recovery time after neck lift surgery can vary from person to person, depending on the specific details of their case, whether or not any additional procedures were performed simultaneously, what kind of anesthesia was used, and other factors. When performed while the patient is under local anesthesia in Dr. Sadati's state-of-the-art surgical facility, the risk of anesthesia-related complications, nausea, vomiting, and other postoperative issues can be avoided altogether.
Patients should expect some level of mild discomfort, bruising, and swelling in the first few days following the procedure, but these are generally well tolerated and can be relieved using over-the-counter medications. Most patients begin feeling more like themselves and are able to move more comfortably around the house after about three days. Typically, neck lift patients require at least 7-10 days off of work, depending on the physical demands of their job, while more strenuous physical activities and exercise should be paused for at least 4-6 weeks, or until cleared by your surgeon.
Will I have scars after a neck lift?
As with any surgical procedure requiring incisions, patients should expect to have some level of scarring following neck lift surgery. However, Dr. Sadati fully understands the importance of keeping your cosmetic work discrete and makes every effort to place his incisions in areas where they can be concealed or camouflaged within the natural contours of the body as much as possible.
There are several different neck lift techniques, and the surgical approach will depend on the severity of the patient's concerns, additional procedures that may be combined with a neck lift, the surgeon's preference, and other factors. In most cases, neck lift incisions are placed under the chin, behind the ears, or in front of the ears. While the incisions will be visible as they are healing, most patients report that their scars fade well over time and are imperceptible to others, unless they know where to look. Dr. Sadati and his caring team of medical professionals and office staff will provide topical ointments and other recommendations to help promote proper incision healing along with a comprehensive set of postoperative guidelines. One of the most critical components of neck lift aftercare is to limit sun exposure. Not only will this help save your skin from the harmful effects of the sun's UV rays, but it will also allow your scars to continue healing and fading appropriately.
Is there a non-surgical alternative to a neck lift?
If you are not quite ready or able to undergo a surgical neck lift just yet, Dr. Sadati is happy to discuss a variety of non-surgical or minimally invasive anti-aging treatment options with you to find something that best meets your needs and goals. In many cases, injectables, like dermal fillers, wrinkle relaxers, and other non-surgical therapies can help rejuvenate a person's skin, though the most dramatic results are typically achieved with cosmetic surgery.
Look years younger with a neck lift
If you are desperate for a solution to tighten loose neck skin and take decades off your appearance, neck lift surgery may be right for you. Call our friendly team to schedule your neck lift consultation with renowned board-certified plastic surgeon, Dr. Kevin Sadati, or enjoy an online consultation from the privacy, comfort, and convenience of your own living room! Either way, don't spend another year looking – or feeling – older than you actually are; call us today at our plastic surgery clinic!