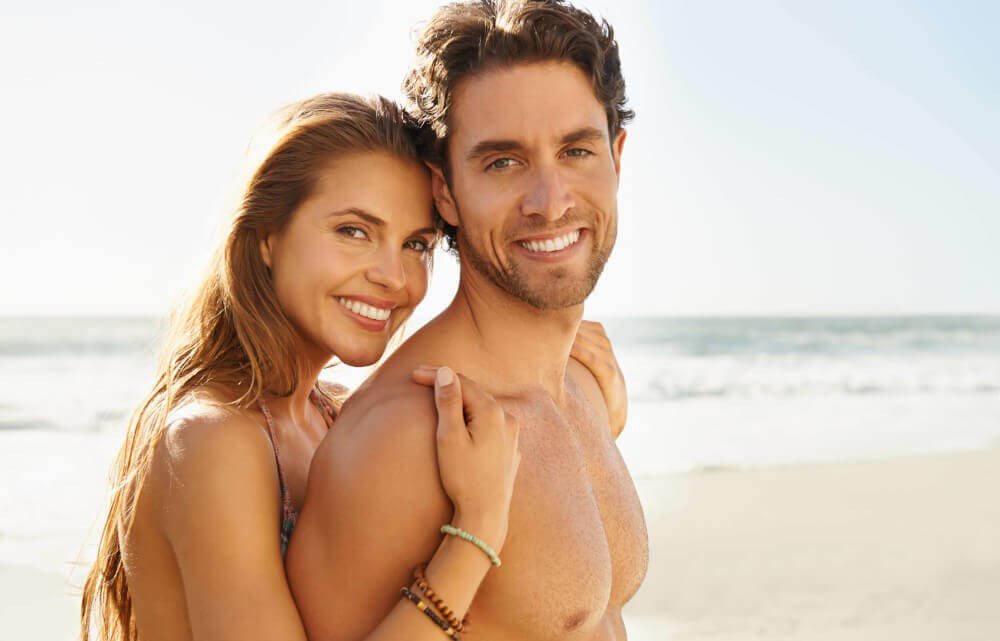 Women and men, of Orange County, are always seeking to find the perfect solution to turn back the hands of time and look younger. It would be nice to look as young as you feel but everyone's skin changes with age and the best solution can be turning to cosmetic solutions for help. The cosmetic industry is booming and in demand now more than ever with people trying to look younger and fight the signs of aging. A facelift procedure, with the help of combining other rejuvenating facial treatments or surgical procedures, can give patients tighter, smoother looking skin taking years off their appearance.
Board-certified Newport Beach facial plastic surgeon, Dr. Kevin Sadati, is one of the leading experts in the Orange County/LA area providing patients with the solution of amazing, natural-looking results with a facelift in perfect combination with other cosmetic options. Let's take a look at what Dr. Sadati can do so you can love the way you look again!
Changes in our faces over time…
Several different factors can contribute to looking older as we age. Sun exposure, smoking, weight loss, genetics and the natural aging process (no thanks to gravity!) all play a part in loose, sagging skin and wrinkles beginning to appear. People in Orange County are taking back their youthful look with help from highly experienced and skilled plastic surgeons like Dr. Sadati. With advancements in medical and surgical techniques, there are several facelift options available today as well as other cosmetic avenues that can be used in combination to give patients beautiful long-term results.
Facelift and the perfect combos…
A facelift or rhytidectomy is a cosmetic procedure that eliminates visible signs of wrinkles and tightens loose skin on the face and neck area. Over time, skin loses elasticity with the production of less collagen so skin becomes less dense and thinner. Sagging skin and the formation of wrinkles begin to become more prominent and more permanent. A facelift is a restorative type surgery that can take years off your appearance especially in conjunction with some other cosmetic options to optimize the end results. Let's take a look at some powerful duos that work to make you look as young as you feel.
Facelift including Blepharoplasty (eyelid lift):
A facelift will tighten the loose skin and reduce the appearance of wrinkles on the face and neck area but in order to target the eyes an additional eyelid lift or blepharoplasty will be recommended. During your consultation, with Dr. Sadati, he will use his expertise and artistic sense to determine if both of these procedures will target the areas of concern for a patient. An eye lift can be one of the most transforming cosmetic procedures. It can remove excess skin on the eyelids while reducing puffiness or "bags" under the eyes. It can also eliminate visible signs of wrinkles or "Crow's feet" around the eyes. Patients tend to receive compliments after an eye lift that they look years younger and look more awake! An eyelid lift in combination with a facelift can make a patient look and feel years younger!
Facelift in conjunction with laser skin resurfacing:
A common question asked when considering both of these options is which one should I do first? From a treatment standpoint, it doesn't matter but if you trying to eliminate deep lines or wrinkles then the facelift surgery should be done first. The laser skin resurfacing treatment is a perfect ending to a facelift which will deeply penetrate the newly, tightened skin to resurface and remove any irregularities such as pigmentation, sun damage or spots even acne to leave a softer, smoother complexion. In some cases it can be done simultaneously with a facelift and in some instances it needs to be done separately once a patient's facelift incisions have healed. A skilled, experienced plastic surgeon like Dr. Sadati will determine what should be the patient's approach to this dynamic duo!
Facelift with fat transfer:
A facelift performed with a fat transfer, also known as fat grafting, is another way to rejuvenate the skin and restore the skin's texture or shape in a more non-invasive facelift fashion. The skin is restored and "lifted" by using a patient's own fat tissue usually taken from the abdomen or thigh area. Once fat tissue is extracted, a surgeon will extract healthy stem cells from those fat cells in order to inject them back into the layers of the skin to essentially 'jump start' new cell growth. It is a non-invasive facelift that fills in the areas of the face that need a fresh look by utilizing a patient's own body cells. Once the new cells get adjusted into their new environment they start working immediately giving patients a natural-looking boost to their appearance that has long-term results. Dr. Sadati will determine if a patient has enough fat to transfer, from the other areas of the body, in order to give a patient the best end results with this type of facelift.
If you are wanting to look years younger there are options available to combine a facelift with different levels of cosmetic help. A facelift with fat transfer is less invasive while a facelift with an eye lift can make people ask you the question "how young are you?". Whatever your end goal, Dr. Kevin Sadati of Orange County can help. He is a board-certified facial plastic surgeon with over a decade of experience helping countless patients look and feel younger. He has been voted "Best Cosmetic Surgeon" in Orange County for 3 years and has appeared on TV shows like "The Doctors" as an expert on plastic surgery. He is a highly-skilled surgeon with an artistic background, as a studied painter and sculptor, which has allowed him to create natural-looking, masterpieces for his patients with facelifts and other cosmetic procedures. If you are considering a facelift with options then call or schedule your plastic surgery consultation with Dr. Sadati today.