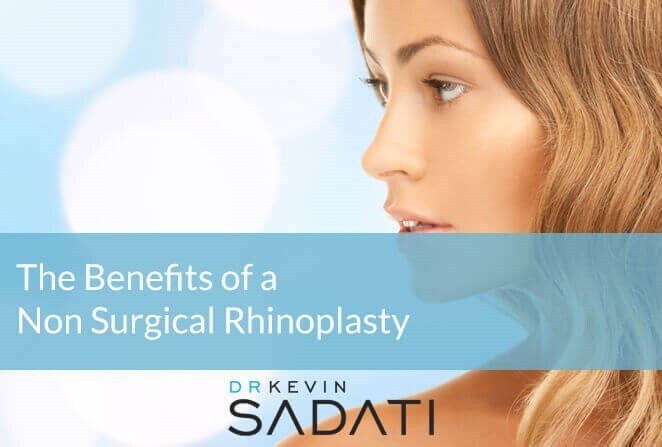 The nose plays a vital role in the overall look of the face and can deeply affect a person's self-confidence. Sitting in the center of the face, it is widely accepted that the nose is the anchor-feature, drawing the most attention and having the most influence.  An aesthetically pleasing nose can positively affects another persons initial judgment, so those with a nose that they feel doesn't fit their face can often feel self-conscious and suffer from a lack of self-esteem.
Non-surgical rhinoplasty, also known as a non-surgical nose job, is a non-invasive procedure that utilizes an injectable dermal filler to alter the shape of a patient's nose.  Dr. Kevin Sadati most commonly uses RADIESSE® as his dermal filler of choice at his Orange County practice.  Non-surgical rhinoplasty is only cosmetic, meaning it affects only the appearance of the nose. It can not be performed to reduce the size of a nose, but uses the injection to even out the appearance of bumps on the bridge of a nose, create a bridge for a flat nose, straighten out the look of a crocked nose and reduce the angle of a nose's tip. This procedure is extremely versatile and has the ability to give a patient the nose they've always wanted without the increased risks of surgery.
            Non-surgical rhinoplasty is extremely safe and usually needs nothing more than a topical anesthetic or the numbing agent premixed with the dermal filler for a comfortable patient experience. This is unlike a traditional rhinoplasty that requires general anesthesia. This non-invasive procedure leaves little to no swelling or bruising and there are no residual affects that require any downtime.  The patient can go back to work and regular activities the same day, whereas traditional nose surgery recovery can require up to 10 days before returning to any activity and up to 6 months before the pain and swelling disappear entirely. 
This is also a great option for those who have already tried nose surgery and do not want revision rhinoplasty.  It leaves a lot of patients with peace of mind knowing a non-surgical nose job is a reversible and temporary procedure.  This also gives patients the opportunity to see what alterations would look like prior to committing to surgery.  For those who are dissatisfied with the look of their nose, non-surgical rhinoplasty is well worth exploring.
Dr. Kevin Sadati is one of the top California facial plastic and ENT surgeons specializing in minimally invasive facial and nasal surgery. He is board certified by the American Osteopathic Board of Otolarynology Head and Neck Surgery (AOBOO-HNS), Diplomate of the American Board of Cosmetic Surgery (ABCS) and a member of the prestigious American Academy of Facial Plastic & Reconstructive Surgery (AAFRS).
Dr. Kevin Sadati has over a decade of experience in the field of facial plastic and reconstructive surgery, as well as nose and sinus surgery, and has become one of the most sought after plastic surgeons in Newport Beach and Orange County as a facelift, rhinoplasty, face and neck liposuction and sinus surgery specialist.