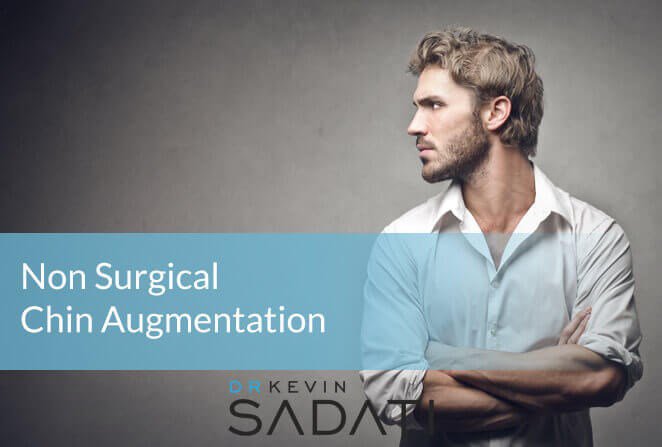 The chin implant procedure is a relatively common cosmetic procedure designed to complement the appearance of a person's facial profile as well as increase balance throughout the face. Many Newport Beach plastic surgery patients opt to have this procedure performed in order to look better and feel more confident.
It is a great option for Newport Beach professionals who want to appear more distinguished, and those who are hoping to improve their social and personal lives. In recent years, advancements in this procedure have been made in order to offer patients a non-surgical option, called the injectable chin implant.
What is the Injectable Chin Implant? The injectable chin implant is a non-surgical cosmetic surgery designed to improve the appearance of a person's chin.
Injectable fillers are used in this procedure, allowing the surgeon to sculpt the chin as needed. It can help hide any blemishes or structural deficiencies in the chin, while also increasing facial balance. A variety of fillers can be used in this procedure in order to provide patients with the best, most personalized results.
Common fillers that are used in the injectable chin implant include injectable silicone, hyaluronic acid, collagen, injectable hydroxyapatite paste, hydrophilic polyacrylamide gel and poly-methyl (methacrylate). Patients will typically have two 15-minute procedures performed in order to achieve the best results. The results last for about 1-2 years.
Is This Procedure Considered Safe? Yes, the injectable chin implant procedure is safe. In fact, many consider it a safer alternative than the traditional cosmetic surgery procedure, mainly because surgery and general anesthesia are not necessary for this procedure. In addition, it is an extremely short procedure, with each session only lasting about 15 minutes. This means that there are fewer risks and complications associated with the injectable chin implant procedure. More than 30,000 injectable chin implants are performed throughout the country each year.
What Costs are Associated with the Injectable Chin Implant? The cost for the injectable chin implant will vary based on the patient, the significance of the work that needs to be done during the procedure and the fillers that are used. In general, patients can expect this procedure to cost anywhere between $800 and $2,000. Insurance typically will not cover this procedure, this is a cosmetic procedure and not considered medically necessary. However, the injectable chin implant is far more affordable than the surgical chin implant.
The injectable chin implant is an ideal choice for clients who want to improve their physical appearance through a cosmetic procedure without undergoing a major surgical operation. The risks of the injectable chin implant are minimal compared to the cosmetic surgery version of this procedure, and the recovery time is significantly shorter.
Patients still get to enjoy the same natural-looking, superior results and will be able to show off their new appearance in a matter of days. Patients interested in this procedure should make an effort to set up a free cosmetic consultation in order to find out if they are a qualified candidate for the injectable chin implant.