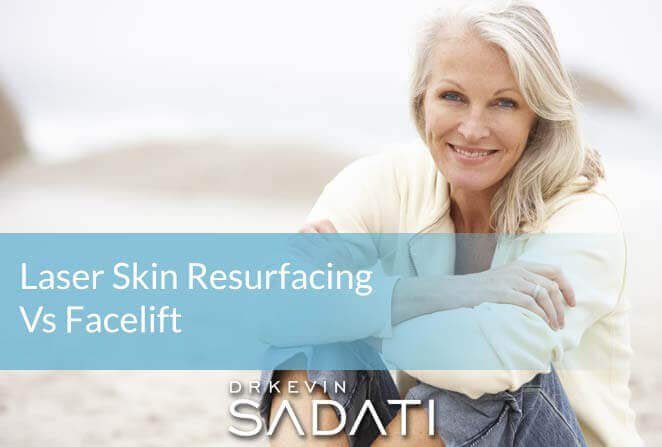 Lasers
Lasers are ideal for individuals with fine lines, wrinkles, and discolorations and the laser causes the skin to produce new collagen fibers. This makes the skin appear smoother and younger-looking within weeks of treatment. Lasers typically aren't suitable for deep wrinkles, or excess skin, but if used in conjunction with fillers and/or a facelift, many people achieve optimal results.
Laser treatments are particularly well-suited for individuals in their late 30s and into their 40s. Although such individuals rarely have sufficient signs of aging to warrant a full surgical facelift, they may have fine lines and discolorations that can easily be corrected with a laser resurfacing procedure.
Facelifts
As discussed, lasers will not help with loose or sagging skin. If you have a lack of elasticity, particularly around the jawline and neck area, a facelift is probably the best option. If you're experiencing significant loss of volume under the skin, a facelift combined with fat grafts can produce a more natural, lasting look than fillers. Most individuals don't develop the deep wrinkles and loose, sagging skin that a facelift can address until they reach their 50s or into their 60s.
When combined, patients are able to realize the benefits of both procedures. Fine lines and wrinkles are eliminated and loose, sagging skin is tightened giving the face a rejuvenated and youthful look. Both laser skin resurfacing and facelifts are performed without the need for general anesthesia.
Dr. Kevin Sadati is one of the top California facial plastic and ENT surgeons specializing in minimally invasive facial and nasal surgery. He is board-certified by the American Osteopathic Board of Otolarynology Head and Neck Surgery (AOBOO-HNS), Diplomate of the American Board of Cosmetic Surgery (ABCS) and a member of the prestigious American Academy of Facial Plastic & Reconstructive Surgery (AAFRS).
Dr. Kevin Sadati has over a decade of experience in the field of facial, nasal, sinus, plastic and reconstructive surgery, and has become one of the most sought after plastic surgeons in Newport Beach as a facelift, rhinoplasty, neck and face liposuction and sinus surgery specialist.