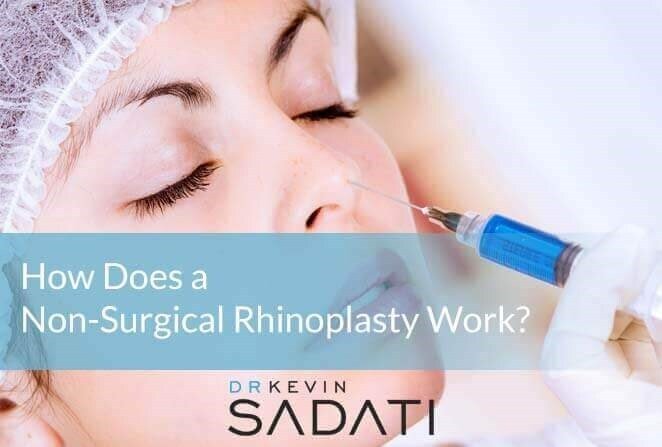 A non-surgical rhinoplasty (nose job) can provide patients with the nose they have always wanted, without the need for surgery and with minimal side effects. At the Gallery of Cosmetic Surgery in Newport Beach, California, Dr. Kevin Sadati performs non-surgical nose jobs using several different brands of injectable fillers.

Previously, if an individual was unhappy with the shape of his or her nose, the only option was a surgical rhinoplasty; however, as the number of FDA-approved, non-surgical cosmetic procedures continues to rise, patients have an array of less-invasive facial rejuvenation and enhancement options to choose from. One of these options is a non-surgical rhinoplasty. 

With a non-surgical rhinoplasty, Dr. Sadati can smooth imperfections, straighten the bridge of the nose, lift the tip, address gaps and imperfections as well as correct sharp angles. Unfortunately, a non-surgical nose job is unable to decrease the size of the nose; therefore, patients who would like a smaller nose will still need to consider having a surgical rhinoplasty. 

There are many patients who use a non-surgical rhinoplasty to avoid surgery altogether; whereas, others choose to have this procedure so they can get an idea as to what results they can expect after they have their surgical rhinoplasty. Since the results achieved during a non-surgical nose job last for several months, patients have plenty of time to determine if they like the way their nose looks. In the event that the individual does not like the results achieved with the dermal fillers, the patient can ask Dr. Kevin Sadati to make adjustments to his or her surgical plan.

At the Gallery of Cosmetic Surgery in Newport Beach, California, Dr. Sadati uses hyaluronic acid-based (HA) injectable dermal fillers when he performs non-surgical nose jobs. HA is a naturally-occurring carbohydrate that is found in nearly every cell within the body. The role of hyaluronic acid in the body is to attract and retain moisture as well as to facilitate the protection, and repair of tissues; thus, making HA-based dermal fillers ideal for rejuvenating and improving the elasticity of the skin. 

The hyaluronic acid-based dermal fillers that Dr. Sadati uses during a non-surgical rhinoplasty at the Gallery of Cosmetic Surgery in Newport Beach, California, include Juvéderm®, Radiesse® and Restylane®. These fillers provide the patient with immediate, long-lasting results.

A non-surgical rhinoplasty at the Gallery of Cosmetic Surgery is quick and relatively painless, typically taking about 15 minutes to complete. Before the injection procedure begins, a topical anesthetic is applied to the patient's nose. This topical anesthetic numbs the skin, making it less likely that the patient will feel the injections; thus, helping the patient remain comfortable throughout the procedure. 

With a non-surgical nose job, Dr. Kevin Sadati can provide patients with beautiful, natural-looking results: The results will be evident immediately following the procedure and will usually last anywhere from three to nine months: It is the type of dermal filler that is used during the procedure that determines the longevity of the results attained. As these results are temporary, patients must return periodically for touch-ups. 

Since a non-surgical nose job does not require the use of a scalpel and only utilizes extremely small needles, there is essentially no recovery time necessary. Following this procedure, there is no hospital stay and no need for pain medications. Most of Dr. Kevin Sadati's patients can return to work the very next day. 

As with all procedures, the risk of side effects and complications is always present. However, with procedures like a non-surgical rhinoplasty, side effects are usually minimal. Since hyaluronic acid-based fillers are used and HA is naturally present in the body, allergic reactions to these products are extremely rare. When an experienced expert injector like Dr. Sadati performs these non-surgical procedures using dermal fillers, the potential for bacterial infections or other serious complications is low. 

For over a decade, Dr. Kevin Sadati, at his Newport Beach plastic surgery practice, has assisted individuals with enhancing their appearance through a variety of surgical and non-surgical procedures. At the Gallery of Cosmetic Surgery, Dr. Sadati is dedicated to providing his patients with the highest quality of care and innovative procedures available in, and around Newport Beach, California.