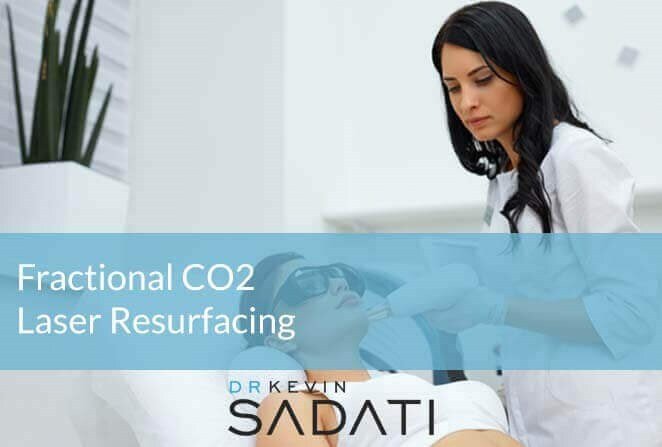 The ExelO2 Laser
If you want to revitalize your appearance and restore that youthful look without undergoing a major cosmetic surgery procedure, Dr. Kevin Sadati offers fractional CO2 laser resurfacing. At the Gallery of Cosmetic Surgery, Dr. Sadati uses the most advanced and safest cosmetic procedure options for his patients, one of the most popular cosmetic procedures today being fractional C02 laser resurfacing.

For Fractional CO2 Laser Resurfacing, Dr. Sadati uses the EXELO2 Laser. EXELO2 is the latest generation of "more aggressive yet safer" laser options. This unique machine has a special built in cooling system. This is coupled with local anesthesia to keep the patient comfortable throughout the procedure. The cooling system also helps to protect the first layer of skin.

After undergoing this procedure, patients can expect redness, swelling and even crusting for about three days. These side effects typically subside quickly and leave behind beautiful and more youthful looking skin.

What is the difference between the Exel02 Laser, CO2 and Fraxel?

Both C02 and Fraxel lasers can be used to treat a range of issues like acne scars, wrinkles, sun damage and uneven texture. However, Fractional CO2 is the best choice for sun damage, wrinkles and uneven texture. It is important to note that Fractional CO2 creates perforations in the skin which causes redness and swelling. The Fraxel laser, on the other hand, does not perforate so there is less redness and crusting. Despite this, fractional CO2 laser offers better results with firmer and smoother skin.

How Dr. Sadati Uses Fractional CO2 Laser Resurfacing

Dr. Sadati uses Fractional C02 Laser Resurfacing at the Gallery of Cosmetic Surgery to provide patients with refreshed, younger looking skin. This is achieved by using short, pulsating beams of light on the damaged area of the skin which removes the damaged skin until new skin is at the surface. Laser resurfacing is effective on the entire face, but especially so on some of the most sensitive areas like the creases of the eyes. Many cosmetic procedure options cannot restore the skin in these sensitive areas, but the precise laser tool used by Dr. Sadati can safely be used here. Dr. Sadati often performs this procedure in conjunction with other facial surgery procedures to product the best outcome with the least downtime. Laser resurfacing is preformed under twilight sedation and local anesthesia as opposed to general. In addition, the cooling system in the EXELO2 Laser offers the patient a comfortable experience. If you are interested in how Fractional CO2 Laser Resurfacing can help you look younger, contact our Newport Beach Plastic Surgery practice today.