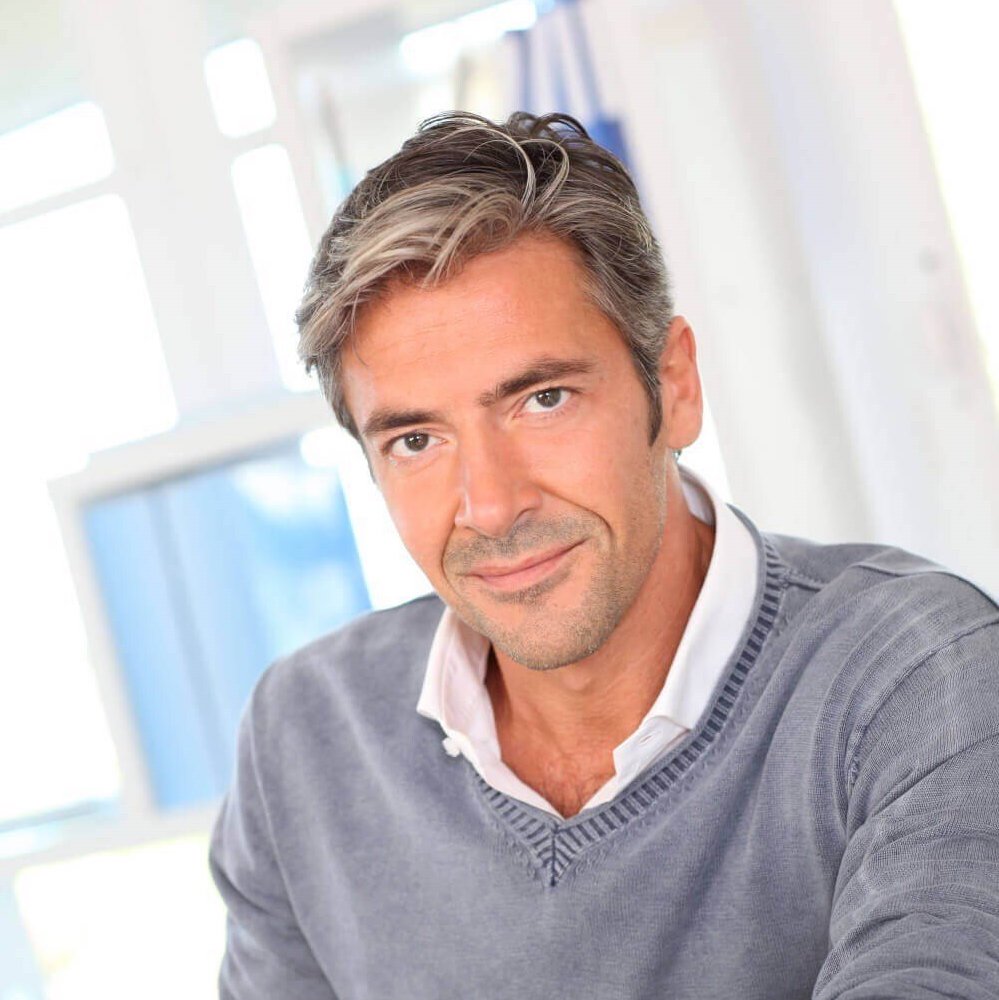 The face of aesthetics is changing, and no longer is inclusive to women. There has been widespread popularity in cosmetic procedures among men over the past few years. It is now quite common to see men in the waiting room at the plastic surgeon's office who are taking action to turn back the visible signs of aging. Injectables like BOTOX and dermal fillers offer both women and men the facial contouring assistance they desire to look younger without the need for surgery. These temporary options give patients amazing results that can last for months up to over a year, and require no downtime. For men in Southern California, dermal fillers are giving them a confidence booster, especially when performed by a leading expert when it comes to injectables and facial procedures.
Board-certified facial plastic surgeon, Dr. Kevin Sadati is one of the most well-renown plastic surgeons in Orange County. His award-winning private practice offers both men and women cosmetic facial rejuvenation with surgical and nonsurgical options. The stigma that men don't want or need cosmetic help is fading fast in today's society, and more men are signing up for procedures to help them look like their younger selves once more. Nonsurgical options like injectable dermal fillers in Southern California are a great first step into the cosmetic world for men. Here is some helpful information from Dr. Sadati on facial contouring with injectable dermal fillers and how he can make you look years younger.
A nonsurgical solution
There is no shortage today of nonsurgical facial procedures in Orange County to look younger at any age. From injectable options like BOTOX and dermal fillers to laser facial treatments and chemical peels, individuals can have their pick from a number of ways to look more youthful. Women have been doing it for years, and now men are doing the same. Dermal fillers can temporarily smooth out the skin to eliminate deep creases, restore lost volume, and reduce the appearance of wrinkles. Injectables such as dermal fillers are one of the many wonders of modern cosmetic technology today and one of the many noninvasive cosmetic facial solutions that Dr. Sadati offers to his patients.
The cosmetic difference for men
Both men and women endure the natural process of aging, yet it affects both genders differently. Women begin to lose collagen and elasticity sooner than men, plus women have different areas of concern where aging makes its presence known. Men usually age at a slower pace and are more focused on the deep creases in their forehead, frown lines, volume loss in their face, or fine lines around their eyes. Men also rarely want to remove signs of wrinkles altogether. Men considering injectables in Orange County, like dermal fillers, still want a rough, masculine exterior while looking years younger at the same time.
Filling in men on facial improvements
Everyone has probably heard of dermal fillers like Juvéderm or Restylane in Orange County and across Southern California. These cosmetic injectables give both men and women amazing results. Facial contouring with injectables like fillers can take years off a patient's appearance with no downtime. Dermal fillers are comprised of a gel-like substance that is injected just beneath the facial skin to restore volume or "fill in" creases to remove the signs of wrinkles. Men can look more refreshed and younger for up to a year and some cases even longer depending on the filler he chooses.
Here are some of the injectable dermal fillers that Dr. Sadati offers at his Newport Beach plastic surgery office and what each can do for you:
Juvéderm Voluma XC – can enhance the jawline, chin or fill in the cheek area plus is one of the fillers that lasts the longest, from 18 months to 2 years.
Juvéderm Vollure XC – is a thicker consistency and can smooth outlines around the mouth (nasolabial folds or "laugh lines") and usually lasts up 12-18 months.
Juvéderm XC – is a smoother consistency that is ideal for fine lines (around the eyes) and can last 6-12 months.
Sculptra – unlike most dermal fillers which consist of hyaluronic acid (such as Juvéderm), this filler is comprised of poly-L-lactic acid. It is a synthetic formula that has been used for decades and can fill in moderate to severe lines or wrinkles and last up to 2 years.
Radiesse – is a calcium hydroxyapatite gel that can smooth out facial lines, wrinkles, or deep folds. It also stimulates the body to produce collagen naturally. It can last up to 2 years.
Experience you can trust
Working with an experienced, board-certified facial plastic surgeon in Orange County like Dr. Sadati on procedures that are tailored for men and their specific needs can give male patients a look they want. Facial contouring help with dermal fillers is providing men in Southern California with excellent, younger-looking yet masculine results. Dermal injections can add volume, contour the face, and fill in any wrinkles or creases with instant results. It is also typically a less expensive option versus other permanent, surgical procedures that come with more extensive downtime and longer recoveries. During your initial consultation, Dr. Sadati will listen to your aesthetic concerns and determine the right plan of action to eliminate in those pesky signs of aging in your face so you can look as young as you feel.
It's a fact … facial rejuvenation treatments are not just for women anymore. Men are looking to cosmetic help in Southern California such as injectable dermal fillers in order to boost their self-confidence and look younger. Dr. Kevin Sadati is one of the leading facial plastic surgeons in Los Angeles. He has been voted "Best Cosmetic Surgeon" of Orange County and appeared on the hit TV show The Doctors as a panel expert. Dr. Sadati puts his patients' needs first and has helped countless men get the younger, more contoured look they want. If you are considering dermal fillers to remove the signs of aging, we invite you to schedule a consultation with Dr. Sadati today.