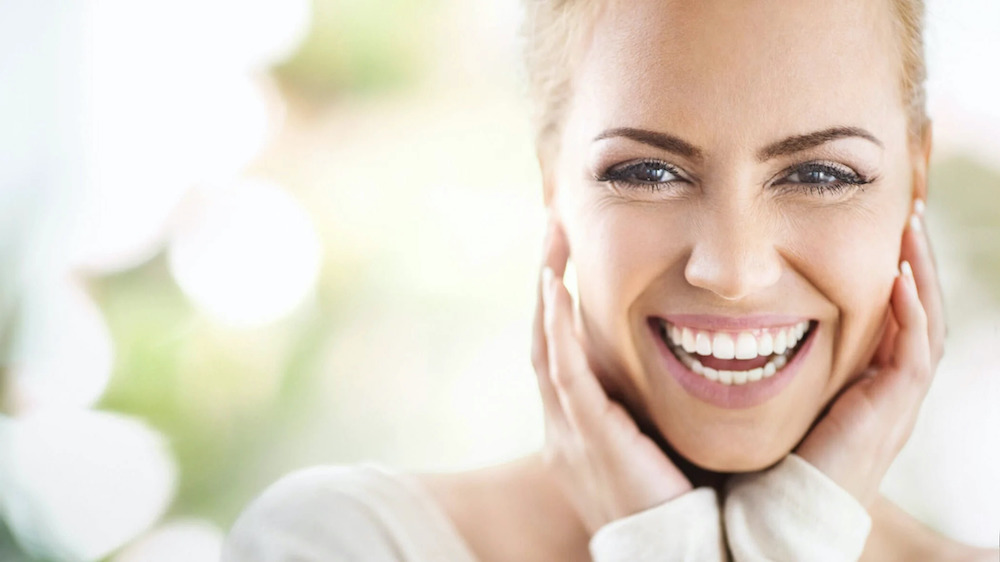 The skin on the neck is delicate, thin, and one of the first areas affected by the natural process of aging. As we age, our bodies produce less collagen, and skin loses elasticity, causing sagging neck skin to develop. Other factors, like genetics, sun exposure, and dramatic weight loss, can warrant changes in the neckline area, leaving loose skin left behind. A neck lift, or lower rhytidectomy, is a popular procedure performed to restore a more youthful profile for men and women, so they feel more confident about their looks. But, can loose skin under the chin come back after a neck lift?
Board-certified and award-winning plastic surgeon Dr. Kevin Sadati is a nationally recognized and leading expert for his facial rejuvenation procedures. Dr. Sadati is highly renowned for his surgical skills and blending his fine arts background as a studied sculptor and painter to create natural-looking, beautiful results for his Southern California patients. Learn more from Dr. Sadati on how to refine your neck area and helpful tips to prolong the results, by scheduling an in-person or online consultation today.
What can an Orange County neck lift help?
A neck lift, or lower rhytidectomy, is a cosmetic procedure that can restore the neck and lower the jawline area by removing loose, sagging skin. It can also incorporate the removal of excess skin under the chin that includes fatty tissue, also known as a "double chin," to redefine a patient's profile. Often an unknown fact, the neck area is made up of a band of muscles called platysma muscles. Due to aging, this muscle band becomes less taut and loses elasticity, causing the neckline to sag or droop. It is a prevalent issue, especially for women, as they enter into their late 40s or early 50s. A neck lift can help Orange County, CA patients have a firmer, more refined appearance in the chin and neck area.
Does a neck lift eliminate sagging jowls?
After an initial consultation with Dr. Sadati, he will discuss his surgical plan of action and determine if liposuction will be needed to remove unwanted fatty deposits to contour the neck area further. Neck contouring can dramatically improve a person's appearance, helping patients look years younger by restoring balance to facial features and providing a more defined jawline. This simple procedure offers dramatic results for both women and men. However, it isn't a surgical procedure that provides a permanent solution or stops the aging process. On average, most results of a neck lift last about 10 – 15 years. Treatment results will vary based on the following:
Genetics
Lifestyle choices (limiting the area to sun exposure and wearing sunscreen)
Skin care regime after surgery
What can I expect during neck life recovery?
Depending on the degree of severity with sagging neck skin or jowls, small surgical incisions will be made behind each ear and under the chin. It will tighten the band of platysma muscles, and any excess skin will be removed to gradually get rid of loose skin, leaving a smooth, rejuvenated profile. It is a straightforward procedure that provides patients with almost immediate results. It can be an excellent stand-alone procedure or done in conjunction with other cosmetic treatments, such as an eye lift, facelift, or chin augmentation. In most cases, patients can return to work or other activities in about a week or two. Swelling in the jowls and neckline area should be fully subsided in about 4– 6 weeks so patients can fully enjoy their newly contoured profile.
Dr. Kevin Sadati is a renowned facial plastic surgeon in the Southern California area. He has been a guest surgical expert on various media outlets throughout the country, and has an established and distinguished career as one of the top plastic surgeons in Southern California. If you want to look years younger and are curious about a neck lift or lower rhytidectomy, contact our office to schedule a one-on-one Newport Beach Plastic Surgery consultation with Dr. Kevin Sadati today. We are also offering virtual consultations at this time and look forward to hearing from you.