Facelift and Neck Lift with Local Anesthesia and Mild Sedation near Costa Mesa*
Procedure Details
The "before" and "after photos of this satisfied patient show how much younger and rejuvenated a person can expect to look after receiving a natural facelift from Dr. Sadati. While she still had good volume in her cheeks, her profile pictures show that her jowls were drooping, and her jawline wasn't as sharp. Her eyes were quite hooded and closed off, making it difficult to see her eye lid. She'd reviewed Dr. Sadati's 500+ 5-star testimonials and decided to get his opinion about combining a neck lift with neck liposuction in addition to having a face lift. Dr. Sadati felt she was a good candidate for eyelid surgery, and she was excited about looking refreshed and more alert. During her three-hour procedure, she only needed local anesthesia with mild sedation, so her office time was short, and she was able to recover in the privacy of her own home. When she returned for her follow-up appointment, she was very pleased with the lack of downtime and pain during recovery. She went back to work within two weeks and was already recommending Dr. Sadati to coworkers, saying she wished she'd had her surgery in her 50s and called him the best facelift surgeon in the Costa Mesa area.
More
Female Facelift Front View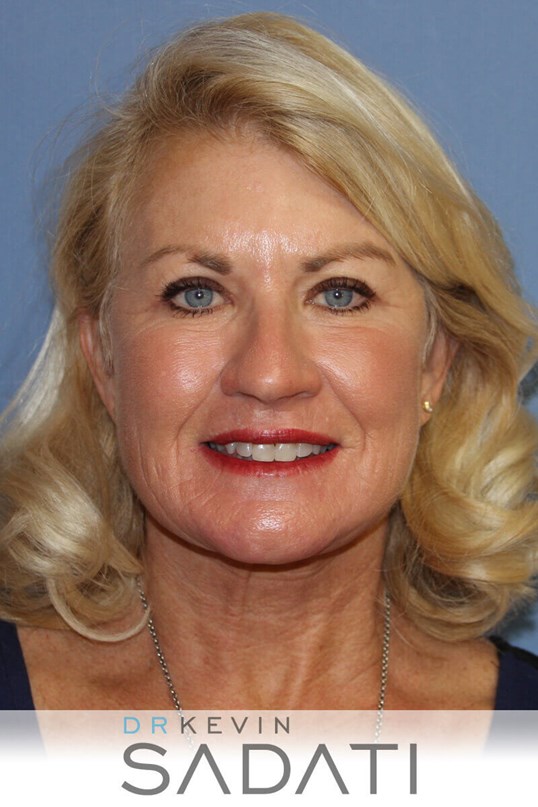 Female Facelift Left View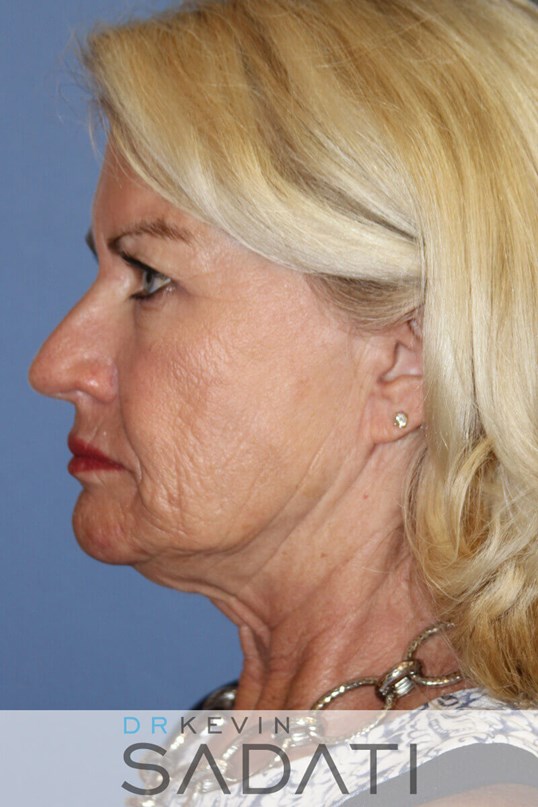 Female Facelift Right View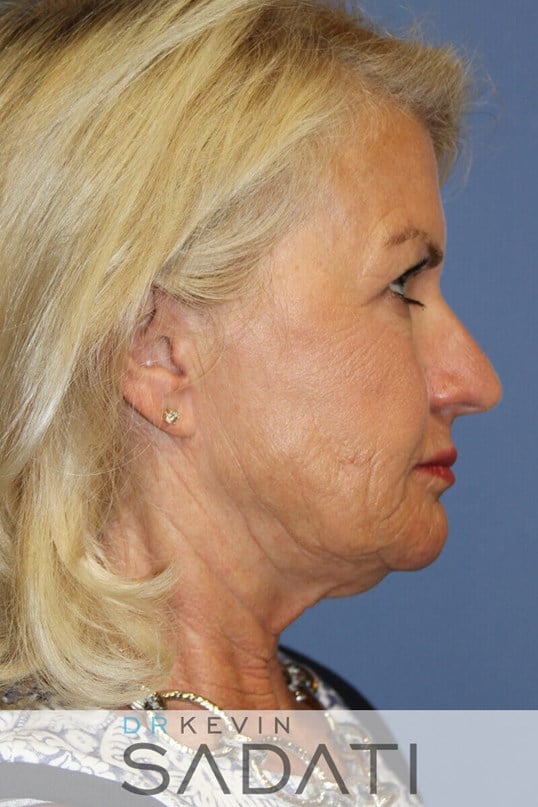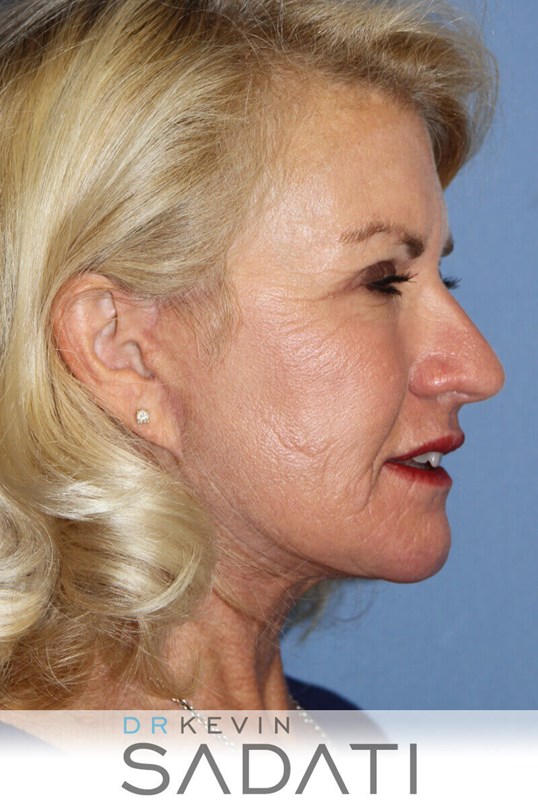 Orange County Facelift Expert
Trust your face in the hands of a facial specialist. With Dr. Kevin Sadati's minimally invasive face and neck lift, there is no need for general anesthesia.
Over 3000 patients have had their lower face and neck lift performed by Orange County facelift specialist Dr. Kevin Sadati. Using his Double "C" Plication (muscle tightening) technique, his patients receive a refreshed, youthful appearance without a 'pulled' or 'artificial look' often associated with a facelift. Dr. Kevin Sadati's patients refer to his revolutionary lower face and neck lift as the Natural Lift or Natural Facelift, because of its natural looking, non-operated results. The Natural Facelift is performed in office, under local anesthesia and twilight sedation. There is no need for general anesthesia in order for the patient to under go a comfortable cosmetic surgery experience.
The American Journal of Cosmetic Surgery published Dr. Kevin Sadati's unique muscle tightening technique in 2011. Since then, he has been invited to premier facial plastic surgery conventions such as the American Academy of Facial Plastic Surgery, American Academy of Cosmetic Surgery and AOBOO-HNS in order to educate other plastic surgeons. Dr. Kevin Sadati continues to receive rave reviews from both his peers and his Newport Beach facelift patients for his renowned Natural Facelift.
Location