Lower Face and Neck Lift with Local Anesthesia and Mild Sedation*
Procedure Details
This Southern California patient was referred to our office by one of her friends who had facelift procedure by Dr. Sadati. With age, this patient started to notice her once tight and youthful skin and had begun to sag along her face, jawline and neck. She scheduled a consultation with renowned cosmetic surgeon, Dr. Kevin Sadati to discuss her concerns. Dr. Sadati determined his Natural Facelift and neck lift would correct the patient's concerns. The procedures were performed in our office, without the need for general anesthesia. Dr. Sadati performed a lower face and neck lift with local anesthesia and mild sedation in our outpatient surgical center. Her recovery was quick with minimal discomfort. She is 7 weeks post facelift and neck tightening procedure in this before and after picture. She is very pleased with the results. It is important for patients to understand the limitations of cosmetic facial procedures and to be realistic about the outcome. Each individual heals differently and each result varies according to facial features.
More
Lower Face and Neck Lift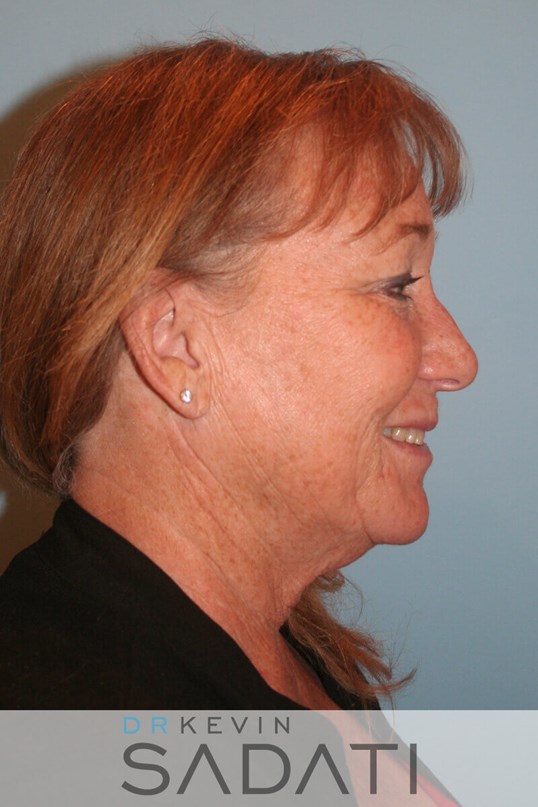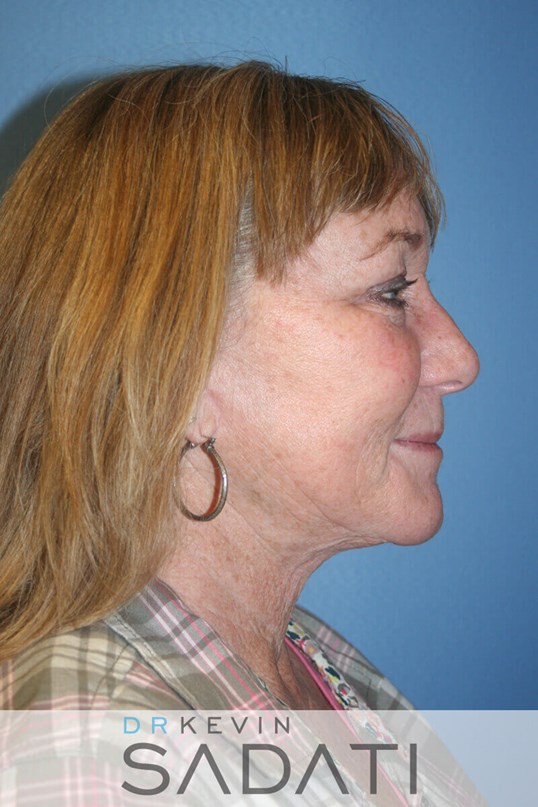 OC Facial Plastic Surgeon
There is no magic solution to stop the aging process. Everyone will continue to age after their facelift procedure. However, the aging face is a dynamic process. A well-performed facelift surgery generally erases about 10 years from a patient's face. Based on Dr. Kevin Sadati's cosmetic surgery experience, ten years after an initial facelift surgery a patient's face should still have more tone, firmness and a better looking neck than before they underwent the surgery. From person to person, the elements that affect facial aging will vary. Some of these factors are the genetic aging process, the degree of sun exposure and sun protection, smoking, various diseases and medications. Additionally diet, exercise and weight maintenance will also play a significant role in slowing down of the aging process. Remember, with facelift surgery the goal is to look like you, only younger and to continue to take care of yourself from the inside out to help obstruct the facial aging process.
Location