Beverly Hills Female Facelift with Necklift and Laser Skin Resurfacing**
Procedure Details
At 60 years old this female cosmetic surgery patient was still incredibly active but felt like her face no longer represented how she felt. Concerned about sagging jowls, loose skin in the neck area and loss of elasticity she turned to Dr. Kevin Sadati for his renowned lower face and neck lift. Often referred to as the Natural facelift by Dr. Kevin Sadati's patients, this cosmetic procedure utilizes his self-developed facial muscle tightening technique to create long lasting, natural-looking results. This wonderful facelift is performed at his Orange County medical practice, under local anesthesia and twilight sedation. No general anesthesia is needed with a comfortable experience. This patient found her facial plastic surgery procedure to have an easier recovery than she expected, and enabled her to returned to work a week later. This patient did not want to have a " pulled look", so she traveled from Beverly Hills to Orange County for her facial rejuvenation. 
More
Beverly Hills  Neck lift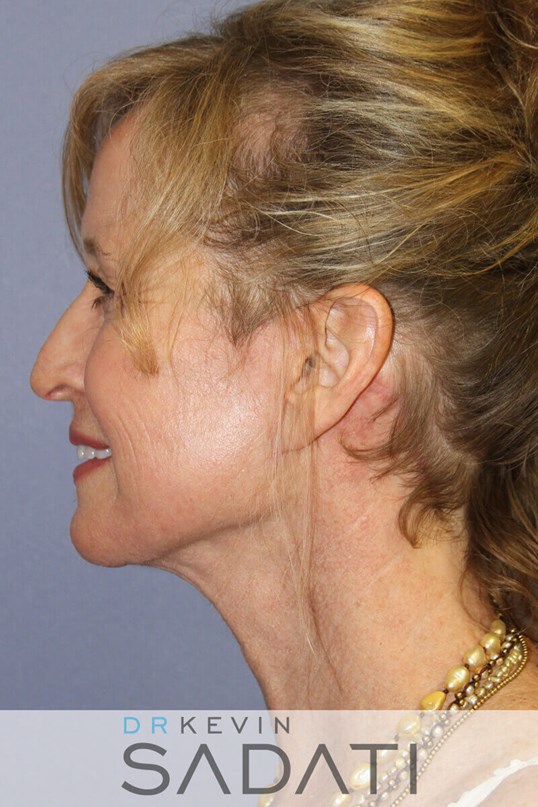 Beverly Hills lower  Facelift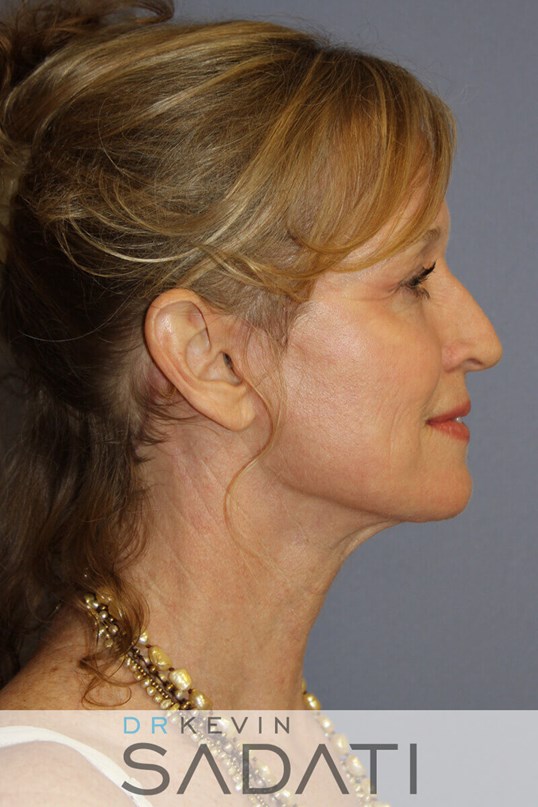 Newport Beach Facelift Expert
Extensively trained in facial plastic and reconstructive surgery, Orange County natural facelift plastic surgeon Dr. Sadati is known for providing discerning Orange County patients with discreet and youthful facelift results. Using the latest and most advanced techniques available, Dr. Sadati is fully qualified to treat virtually all major signs of aging on the face and neck -- including erasing wrinkles and fine lines, reducing jowls, reducing sagging skin and reducing bags under the eyes.
A respected leader in his field, Dr. Sadati's innovative Double C Plication technique was published in the March 2011 edition of the American Journal of Cosmetic Surgery, the most prestigious medical publication in the industry. In addition, Dr. Sadati has been invited to speak about his natural facelift technique and exceptional results at medical conferences and conventions around the country. As the innovator of this approach with over 3,000 successful facelifts, Dr. Sadati is often called upon to teach his Double C Plication technique to other leading plastic surgeons.
Guiding Dr. Sadati's success is a blend of his surgical skill, unique artistic eye and attentiveness to his patients' needs and desires. Always striving for perfection, he is skilled at achieving his patients' precise objectives while ensuring a natural outcome. With years of experience and countless successful procedures, Dr. Sadati has cultivated a reputation as one of Orange County's top facelift experts.
Location